I found a great toothbrush at Wal-Mart the other day.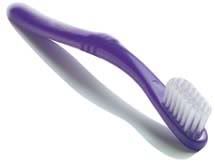 They're made from recycled materials.
No, not used toothbrushes. Bottles, milk jugs and other recyclable plastics.
We are big advocates of recycling at our house and buy recycled materials when possible, especially when the product works well.
These toothbrushes are really nice. I like them better than any other I've bought in the past.
I hope you are recycling. It's up to us to do our part to save our planet. :o)